Wohoooo - Kajsa did it
Today we went to the Trackwest Tracking Trial and had our first go at TDX track 5. It was pretty horrible weather and Kajsa had to work really hard but would not give up until she had it all worked out. She found all her articles and the tracklayer at the end and got a pass!! This is her TDX (Tracking Dog Excellent) Title.
I am so proud and happy especially that we only had 3 trials so far this season and she got a pass every time which doesn't happen very often! (In Australia a dog needs to pass test 3, 4 and 5 to gain the TDX title.)
Here the requirements of a TDX5 test: Unknown person, appr. 1,200m long, at least 5 turns incl. 1 acute corner,
3 articles, track must be crossed twice by one or two unknown persons appr. 30 minutes after the original tracklayer has passed. The track is between 1 - 3 hours old. The dog needs to find at least 2 articles and the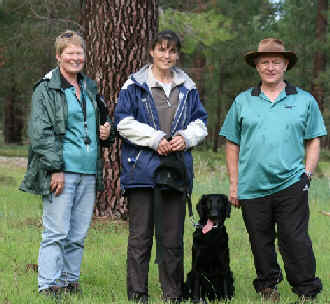 tracklayer to obtain a pass.
Attached a photo from during the test and afterwards with the judge Sue Fletcher and the steward Neil Fletcher and a Kajsa with a super long tongue:-))
Big hugs from all of us
Proud mum Sonja , Jessie & Kajsa
xxxxx