Huntingtest:
1 st prize Beginners class
2x 2nd prize Open class

Tracking:
23x1 st priza open class, 16 Hp

Show:
4 CC, several BOS , BIS-breeding-group

Challenge trophies:
Väst-Bäst-Flat A 1998, Västras spår VP 1998, 2000 & 2001 Distriktmästare i Västras spår DM-2000, I Buff's spår VP-2000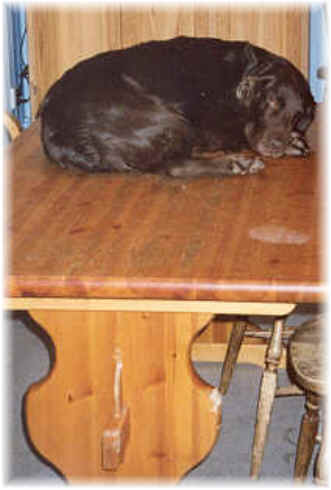 " Råttan" - the first bitch out of our own breeding. And this is how we were used to seeing her - in the middle of the iitchen table.
In the field she was very docile, spontaneous and quiet ... but she soon saw through the trick with cold game, that it is only make-believe, just like dummies, so she put all her effort in to practical hunting and tracking. Tracking was her absolutely greatest passion.
She was never much of a show dog, but she got her CCs, most of them by breed- or retrieverjudges.
"Råttan" was a fantastic breeding-bitch. She was always a great mother and loved and cared for her little ones. She imprinted in them her enormous will to please, which now reveals itself in her 3rd generation puppies. For her mates we have chosen dogs with quite a bit of "go".
With her brown charm she filled an enormous space at home here in Flathult, with children, grandchildren and great grandchildren, and so it will continue, I am sure. Thank you Lena Hägglund, Kennel O'Flanagan for helping "make" Råttan for us! She was invaluable to us at home and in our breeding
At the age of ten my brown queen peacefully went to sleep in my arms. Oh, it hurts.